Yes. GyneSlim™ shirts have been used successfully by thousands of men just like you to gain confidence and make themselves look and feel better. Designed by a gynecomastia sufferer who was disappointed with other shirts he tried, GyneSlim™ shirts are made in the U.S.A from the highest quality materials available.
Regular slimming shirts, including those you've Seen on TV, are designed to make your belly and love handles slimmer. Unlike other compression shirts on the market, GyneSlim™ shirts are designed to combat gynecomastia and their main purpose is to hide man boobs. But, as a bonus you'll also enjoy a slimmer belly and love handles.
These shirts are a must have for any man who wants to look and feel great. If you want a fast and instant way to reduce the size of your chest then these shirts are what you've been looking for.
Do GyneSlim Shirts Work?
Yes they do! The special Spandex blend of fibers conceal your problem chest and the short sleeves and wide collar makes them invisible under your regular clothes. If you want to look great at work, at play or at a special occasion then this is the only way to get instant results. Our shirts are comfortable and discreet meaning they can be worn all day, everyday. Wear one all day at work, then keep wearing it after work at the gym or for a romantic evening meal.
GyneSlim™ PRO shirts
GyneSlim™ PRO shirts are our best performing shirts and are designed with a "Power Panel" on each side of the chest which further compresses the chest compared to other similarly priced shirts. Made with high quality compression fabric that is still breathable, PRO shirts are comfortable enough to be worn all day while giving great results. Read more…
For the best savings buy a multi-pack and save up to $10 per shirt.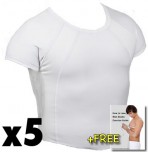 A 5-pack of GyneSlim PRO shirts PLUS a FREE download "Man Boob Exercise and Diet" PDF guide.
ONLY $39.99 per shirt!
*** FREE SHIPPING ***
More Details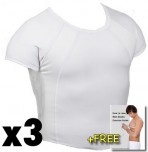 A 3-pack of GyneSlim PRO shirts PLUS a FREE download "Man Boob Exercise and Diet" PDF guide.
LESS THAN $45 per shirt
*** FREE SHIPPING ***
More Details

A single GyneSlim PRO shirt READY to wear. Our best performing gynecomastia shirt.




More Details
GyneSlim™ Regular shirts
Our regular shirts offer great results combined with a comfortable fit. These gynecomastia shirts are completely invisible under your clothes as they feature the same short sleeves and wide neck as our PRO shirts. Designed with the same attention to detail and made with the same high quality fabric as our PRO shirts you won't be disappointed with the results. Read more…
Save nearly $45 and pay only $25.99 per shirt in our Work Week 5-pack. A fresh shirt for each day of the working week!