SAVE WITH THIS MULTI-PACK - ONLY $53.99 PER SHIRT
Single Shirt Price $79.95
The GyneSlim™ Pro Work Week 5-pack saves you a lot of money over buying the black shirts separately. Each black shirt is just $53.99 compared to the regular price of $79.95. The convenient Work Week Pack makes sure that you'll always have one on hand when you need to wear it.
Get the PRO Work Week 5-pack in black and have a fresh shirt everyday so that you look your best all the time, at work or at play. These are a must buy for the man who want to always look his best.
GyneSlim™ Pro shirts are our best performing gynecomastia shirts and feature two "power panels" that further compress the chest and stomach areas compared to other more basic shirt designs. The short sleeves and wide collar make them completely invisible under your normal clothing, perfect for casual or sporting wear.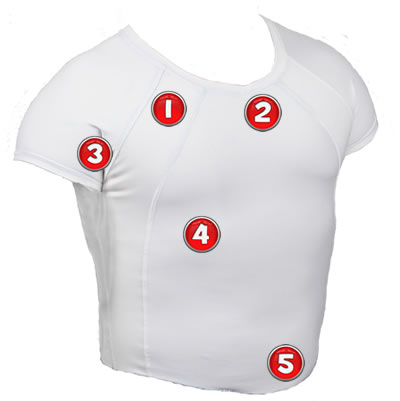 GyneSlim™ Pro Highlights
Power Panels on each side of the chest pull in problem areas
Wide & low neck opening lets you wear open collar shirts
Short sleeves conceal the shirt under your clothing
Specially woven fabric gives constant 360° compression
Generous length stops the shirt riding up over the belt line. Ideal for Big & Tall sizes.
They are comfortable enough to wear everyday or for that special occasion when you need to impress. If you need to look your best for that important job interview, first date or even when working out, GyneSlim™ Pro shirts will get the job done.
GyneSlim™ shirts are specifically designed to reduce and reshape your chest therefore reducing the appearance of man boobs. But don't worry, with GyneSlim™ shirts you'll also get the added benefit of a slimmer belly!
FREE BONUS - also receive a FREE download "Man Boob Exercise and Diet" PDF guide with the Work Week 5-Pack.
Features & Benefits
High quality compression material
Main body (front, back, sleeves) is 90% polyester, 10% Spandex fibers; Power Panels are 94% polyester, 6% Spandex
Slims your chest instantly
Also slims belly and love handles
Comfortable to wear, even all day
Discreet under clothing
Machine washable
Available in M,L,XL,2XL
Proudly made in the USA
Customers also Bought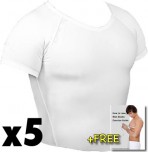 ONLY $35.99 per shirt!
*** FREE SHIPPING ***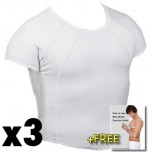 LESS THAN $65 per shirt
*** FREE SHIPPING ***

You will receive
A 5-pack of GyneSlim PRO black shirts PLUS a FREE download "Man Boob Exercise and Diet" PDF guide.

ONLY $53.99 per shirt!
*** FREE SHIPPING ***